Fall Creek Gardens and the Indiana Organic Gardeners Association (IOGA) are excited to present our 4th annual winter class series:

Organic Gardening for Beginners
Our four-part class series features one class each month from January through April–preparing you to grow your very own organic garden this spring!  Register for all four classes before February 13th for almost 40% off!  Learn more about class content and our instructor below, and click here to register:
January:  SOIL
The SOIL class will start with an overview of organic methods and garden ecology, which will serve as a foundation for all four classes.  This introduction will be followed with a discussion of:
• picking the right site
• soil testing and why it is important
• amendments
• composting
• raised beds versus traditional in-the-ground beds
• till versus no-till
Soil can be a garden's greatest asset, or you can struggle with the outcome of poor soil every step of the way.   Learn how to give your garden a rich, fertile, healthy foundation.
February:  SEEDS
Now that you know how to build healthy soil, our second class will focus on planning your garden and starting your plants from seeds. We like to think of organic gardening as the most practical, inexpensive way to grow food–and that means growing from seed whenever possible!
We'll cover:
• seeds–what kinds and where to buy
• equipment for starting seeds indoors
• outdoor seed starting techniques
• hardening off
•transplanting
•troubleshooting common problems
•planning for alternative growing techniques like vertical growing.
Healthy plants require less maintenance and yield a better harvest.  Get your garden off to the best possible start–and start your own seeds!  This also opens up your garden to a wealth of unique, flavorful heirloom varieties that are difficult or impossible to find elsewhere.
March:  SUSTAIN
After working hard to cultivate fertile soil and nourish tiny seedlings into robust, healthy garden plants, a gardener's work is finished until harvest, right?
Well. No. Not really. What about insect pests? Plant diseases? What if we have another extended drought?
Never fear! Join us for the third class in our series and learn how to make sure your garden thrives organically. Topics will include:
• Pests and diseases for common crops
• When and how to fertilize
• Weed control
• Water conservation in the garden
• Pruning, removing spent flower heads
Bring your questions (and a friend) and join the conversation. Spring is almost here!
April:  SAVE
If you think of the harvest as one big event in late summer or fall, join our final class and be prepared to think again!

We'll discuss:
• Crop rotation and succession planting
• Harvesting
• Seed-saving and seed storage
• Season-extension methods
• Fall preparation for spring planting
Harvesting and seed saving occur throughout the growing season, and with the proper techniques, your garden can extend well into winter. Imagine snipping greens for salads in February…or pulling up carrots that have been sweetened by the winter's cold temperatures.
Ready to get growing?  Register and save your seat today!

Our Instructor:
Constance Ferry is owner, grower, and herbalist of Hobbit Gardens, an Organic Herb Farm/Gardens and Shop located on 27 1/2 acres of woods, ravines and pastures in west central Indiana, Putnam Co.  She brings over 25 years of experience in organic practices to our classes! 
learn more about Constance:  http://fifth-house.com/constance-ferry/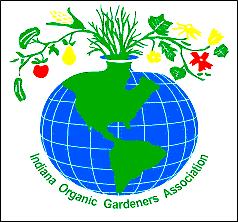 Learn more about the Indiana Organic Gardeners Association at www.gardeningnaturally.org
A BIG THANK YOU to:
The Efroymson Family Fund, for their generous support of Fall Creek Gardens